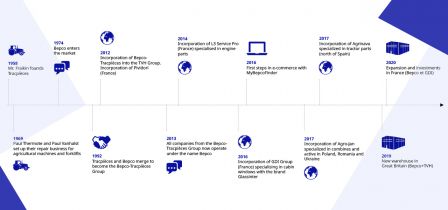 It all began more than 60 years ago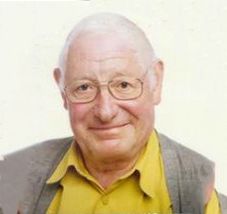 Tracpieces Belgium was founded in 1958 by Mr Paul Fraikin and quickly established itself as a supplier of quality replacement parts. Bence Equipment and Parts Company Limited, trading as Bepco, was founded by John Bence in Camberley Surrey on 20 May 1974. John Bence had a 50% shareholding as did his partner Gordon Jones, a South African whose father was the main Massey Ferguson distributor in South Africa.

John came from a parts background and his family had a manufacturing facility producing engine parts such as cylinder heads and blocks for Caterpillar.
After working for a London export house specialising in Perkins parts amongst other things, he decided to set up Bepco as an export house and purchased the agricultural stock of an industrial equipment spare parts company.

At this point in time Bepco began to sell genuine Perkins parts to agricultural customers in export markets and the engine parts reputation developed. In 1979 an additional board member, Jonathan Lea, joined Bepco as Managing Director, and the business grew quickly with major customers added in new international markets including Australia, USA, South Africa, East Africa, North Africa and the Middle East as well as Europe in Austria and several countries in Scandinavia. 
However, at this time there was still no business in UK, so in 1979 the company Mifflin Trading Limited based in Kington, Herefordshire was established. Mifflin took market share fast and was subsequently renamed Bepco (UK) Limited in April 1991.
During the 1970s additional companies were added including Bepco Mexicana S.A de CV in Mexico and Bepco SA in South Africa. As the Bepco company continued to grow it moved head office to new fully owned premises in Farnborough, UK in 1985.
Sales grew rapidly and the number of sales staff increased to meet demand and manage the good but more challenging markets. In March 1985 a sister company called Jenco International Limited was formed to complement the Bepco product range and meet customer requests for proprietary brands like Delphi, Lucas, Borg Warner as well as OEM parts.
A new era was approaching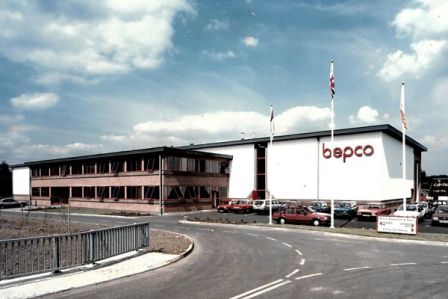 On 15 August 1988 Bepco was taken over by Wilshaw plc, a specialist metals company, with the outcome that John Bence and Jonathan Lea also became directors of Wilshaw. 
Euresa, the technical parts specialist in Spain that had started trading in 1984, was also acquired in 1988 and added to the group. However at this time in France and the BENELUX countries, Bepco was still working  with only two distributors, namely Tracpieces in the North and Agripieces in the South.The owner of Tracpieces Belgium was Paul Fraikin, a man with significant knowledge and history in agricultural spare parts, who had been selling Bepco parts for several years. Following lengthy negotiations with Mr Fraikin, Wilshaw acquired the Tracpieces Group in 1992 to add to the Bepco portfolio.
Bepco then strengthened its European presence further when Agripieces, based in Agen, France was added to the group shortly afterwards and Tracpieces also branched out into Germany through a subsidiary, Tracpieces Ersatzeile.
As Bepco expanded internationally, in Australia Dandenong Diesel, the distributor in Victoria was also acquired in 1996 through a holding company Austshaw Pty Ltd which subsequently became Bepco Australasia.
Business continued to grow and the Bepco-Tracpieces Group had served its purpose well to Wilshaw. So as the priority to Wilshaw was increasingly the special metals business a new chapter for Bepco was about to begin as Wilshaw decided to sell Bepco-Tracpieces in 1996. Additionally, shortly before this sale Jonathan Lea decided to leave the company to pursue other interests. 
However it was not until January 1998 that Bepco-Tracpieces was eventually sold. The purchasers were the venture capitalists Stephen Black and Ian Williams who with external financing support created Tractiv Group and Tractiv Holdings.
Tractiv finally agreed to purchase Bepco-Tracpieces from Wilshaw and made immediate changes with the closure of Jenco International reducing the OEM part service previously offered. As a result of several changes John Bence, the original founder and still Chairman, left the company for retirement in March 1999.
Following a fire in March 2001, Bepco moved to rented premises in Camberley, Surrey and never returned to the head office in Farnborough. Bepco was then sold in October 2002 to new owners GIL Investments, another venture capitalist company.
Anthony Howat became the only operational executive and CEO of Bepco and in 2003 the operation moved from Camberley, Surrey to Hartlebury, Worcestershire, its current base. The focus returned to development of technical parts ranges for the major tractor brands but following a period of financial difficulties Bepco was again sold in 2007 to the GB Ricambi Group.
GB Ricambi, a specialist in Fiat and transmission parts, had a long history and understanding of the agricultural business and their aim was to distribute Fiat parts through the Bepco network.     
However following further acquisitions and the financial challenges at the time, GB Ricambi decided to sell Bepco in 2011.
And so to the final chapter

In April 2012, a new dawn arrived in the shape of TVH, a major dynamic and global force, with long term plans for stability and growth.
Following the acquisition by TVH, Bepco has gone from strength to strength and is growing faster than ever, backed by the investment, dynamism and agility of the global market leader for industrial and agricultural parts. 
Today, Bepco has become one of the largest worldwide agricultural parts wholesalers in the market with a "global reach, local service" strategy and ambitious growth plans for the future.