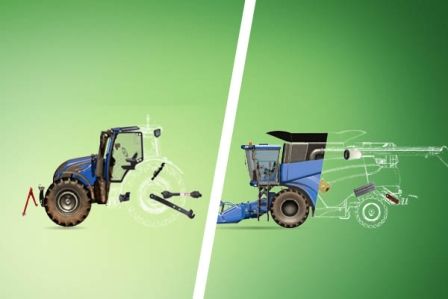 FLOURISH WITH OUR LARGE RANGE OF FARM EQUIPMENT PARTS
Harvesting equipment, tractors, telehandlers, ... Every machine is subject to wear and tear. You can count on us for the parts and accessories that make maintenance a lasting success. Whatever the season or application: we keep agricultural machinery up and running.
More than 230,000 stock items for all major farm equipment brands and models on the market
Large stock, simple online ordering & fast delivery
Bepco-approved quality with an experienced team of technical advisors to assist you in finding the right part via e-mail, phone, MyBepcoFinder.
BEPCO keeps your agricultural operation on task and on schedule at a lower cost!
Whatever the application & the season! We cover your Agricultural parts needs

Harvesting equipment
Rely on BEPCO as your partner for harvesting equipment parts. By following industry and technological developments we continually expand our range of parts and accessories suitable for harvesting equipment.
Parts suitable for CNH, New Holland and more.

Tractors
Tractors are indispensable in modern agricultural enterprises. They are used to mechanise various tasks with maximum efficiency. BEPCO has everything you need to keep your tractors in excellent condition.
Parts suitable for John Deere, Claas, Deutz Fahr and more.
OUR TECHNICAL EXPERTISE, RIGHT HERE FOR YOU
On track to next-level knowledge. Explore handy tips and tricks that help you make informed decisions, and learn new skills from our easy-to-follow blogposts.

Engine parts for agricultural machines
The engine is the heart of every agricultural machine. In this blog, you can find handy tips & tricks to maintain your engine, as well as complementary products to make it a lasting success.

Performing tractor maintenance
Proper maintenance keeps your machine going and prevents unexpected costs. This blog provides you with handy information to make this task a breeze. Here you will find what to look for and how to avoid downtime.

Why telehandlers are shifting towards agriculture
Telehandlers are already widespread in the construction industry, but they are highly useful in agriculture as well. Discover the different types of telehandlers and how they can make a difference for you.
Global reach, local service
A reputation for superior quality and value
An extensive range with over 230,000 parts
A small selection of our agricultural equipment parts range
We have a fully dedicated range of Farm equipment. Let us guide you through our AGRI-world with our core part categories

Electrical parts
Keep the electricity flowing and your machine going. You are guaranteed to find the correct electrical components for your machine at BEPCO.

Cabin parts
Our specialists' knowledge will lead you swiftly towards the perfect mirror, steering knob and every other cabin part desired. 

Filtration
Protect and extend the life of equipment with our wide variety of hydraulic, fuel, oil and air filters from brands you trust.

Cooling
Overheating is a thing of the past...We offer what you need so the system remains at an ideal temperature: radiator hoses, cooling fans, compressors and more.

Engine parts
For many machines, the engine is the most delicate part. It is an assembly of many large and small components. BEPCO has everything you need.

Hydraulics
The hydraulic system does the heavy lifting for you. Keep up the performance of your agriculutral machinery with hydraulic parts such as cylinders, pumps, hoses, valves, and other crucial components.

Brakes
In need of handbrakes, wheel cylinders, air brake parts and all other possible parts for brakes?! Explore our range and find the right part for your application.

Transmission, drive train & front axle
Gear up with the best deals for transmission, drive train, and front axle parts. Easily find all the right parts for your application to keep you going.
Need more information?
Search for Agricultural machinery parts and accessories via MyBepcoFinder
Should you need any further information, please feel free to contact us.