09 March 2022
We only distribute parts we know will match the standards our customers are looking for, and that's why we recommend and supply Rexroth. Our commitment to first-class service and our in-depth knowledge makes us the reliable supplier you need for your Rexroth parts. Furthermore, we offer:
95% same-day shipment

,

next-day delivery

to all our customers.

Customer support in

55 languages

.

A

dedicated technical support

team

that will provide you with the best possible service imaginable.

A

database of over 44 000 000 item numbers,

of which

more than 930 000 different references are in stock

.
Looking for a Rexroth supplier? Look no further. BEPCO is your one-stop shop for all your Rexroth needs! Get access to our online shop to find the full range of Rexroth parts, create offers and place orders.
ABOUT REXROTH
Rexroth is a leading specialist in the field of drive and control technologies. It develops innovative concepts for machine manufacturers all over the world. The Rexroth brand is owned by the Bosch group, which was founded in 1795 and has since grown into one of the world's most relied upon suppliers of hydraulic and electronic components. The Bosch Rexroth range of engine parts includes hydraulic pumps, motors, valves, and much more.
We are pleased to say that BEPCO France is a Rexroth Certified Excellence Distributor Partner for the French market
Photo from left to right: Amaury Salaun (VP Agri TVH Group-Directeur Général TVH France), Dominiek Valcke (CEO TVH), Danny Houtman (DCEN/SLM-BE Bosch Rexroth) and Ahmet Izgi (VP Product Area Service, Mobile Applications Bosch Rexroth) with the Bosch Rexroth Certified Excellence Distribution Partner certificate plates.
OUR CUSTOMER'S MAIN ADVANTAGE: GET YOUR REXROTH PARTS TODAY
Thanks to this partnership, we at BEPCO have the possibility to identify the part you need.
How to proceed:
Take a picture of the identification plate of your Rexroth part

Go to MyTotalSource, access MyPartsFinder and select 'request form'

Fill in the mandatory fields and add the picture of the identification plate

Submit your request
THE REXROTH PARTS RANGE AT BEPCO
Rexroth is a strong partner for mobile hydraulics. It develops innovative concepts for machine manufacturers all over the world and has a large range of hydraulic parts including hydraulic pumps, motors, valves, and much more.
Discover a wide range of Rexroth mobile hydraulics and electronics at TVH, which include top-quality Rexroth parts and accessories, such as : axial piston pumps and motors, mobile control valves, joysticks and pedals, radial piston motors, external gear units, gearboxes, electronic controllers, sensors and displays.
REXROTH EXTERNAL GEAR PUMPS
The key task of external gear pumps is to convert mechanical energy (torque and rotational speed) into hydraulic energy (flow and pressure).
To reduce heat loss, Rexroth external gear pumps are designed to be extremely efficient. This efficiency is achieved through pressure-dependent gap sealing and high-precision manufacturing technology.
A typical example of these pumps is the Rexroth AZ-range on the right
REXROTH INTERNAL GEAR PUMPS
Rexroth internal gear pumps provide needs-based volume flows in a broad speed range with a high degree of efficiency, thus making an important contribution to saving energy.
Its low moment of inertia allows dynamic drives to be created. Variable-speed drives with internal gear pumps are the low-noise alternatives to conventional variable displacement pump systems.
A typical example of these pumps is the Rexroth PG-range on the right.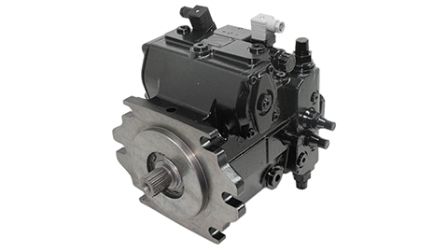 REXROTH PISTON PUMPS
A piston pump is a very reliable solution and has an overall amazing performance.
This type of pump can operate under pressure levels of more than 350 bar (5000 PSI).
In axial piston variable pumps, the flow is proportional to the drive speed and the displacement. The flow can be steplessly changed by adjusting the swivel angle. Axial piston variable pumps are available for hydrostatic drives in open and closed circuits.
A typical example of these pumps is the Rexroth A4VG range on the right.
BUY YOUR REXROTH PARTS IN THREE EASY STEPS
Go to our online shop to unlock our full Rexroth product range. Once you have the access, you will be able to:
Order your Rexroth solenoid valves, hydraulic pumps, motors and other Rexroth

parts directly from BEPCO through our online eshop

. 

Save research time and reduce search errors by

registering your machines in our online eshop

. You can personalise your equipment by adding your own reference, images, documents and notes.

Immediately see the price, lead time, availability, pictures and technical features

for every Rexroth reference.
Already have an account? Log in here.